Hamisa Mobetto is a Tanzanian female socialite, celebrity and public figure. The beautiful star is a singer, musician, artist, songwriter, entrepreneur, business woman and mother of two kids. She is also a brand ambassador of belaire and other hair brands that she endorses on her Instagram page.
The female star has been living bug at the moment, going to beautiful photoshoots and cruising a lavish Yatch on the ocean in Zanzibar, Tanzania. She has been shooting photos to endorse belaire drink in her social media platforms and the shoots have not been disappointing.
In her latest photos, she posted a photo enjoying a picnic outside while grabbing some grapes with belaire drink served on a champagne flute or rather wine glass. Hamisa appeared to be reading a novel about love. Since she is a beautiful celebrity, die hard fans rushed to comment on her photos.
(Photo Courtesy)
One fan commented on how she and the family love Hamisa Mobetto so much. The female fun went on to further explain that her family actually holds prayers for her so she can succeed, prayers that are led by the fan's mother. Hamisa was happy and thanked the female fan, she further included a praying and crying emoji to symbolize that she is in tears and grateful for prayers the die hard fan and family does. Hamisa went on to pin the comment so that it can appear first.
(Photo Courtesy)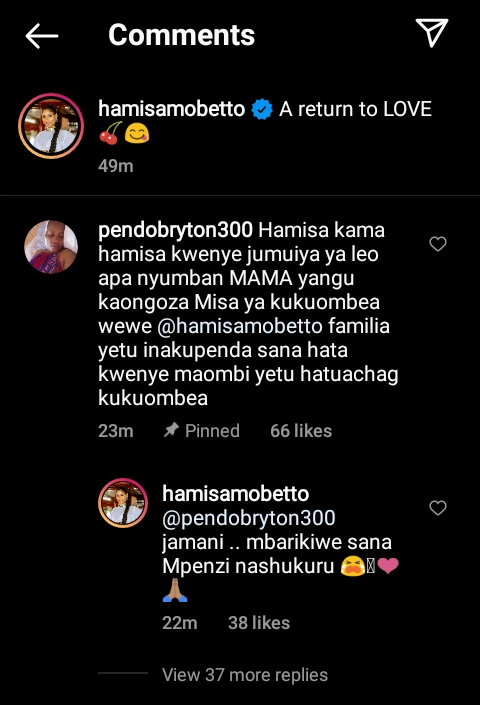 Content created and supplied by: Yourstory (via Opera News )